Learn to water ski
IN 30 MINUTES!
Water Skiing, wake boarding and tube riding on the Nambucca River's beautiful, natural waterways near Macksville NSW just can't be beaten!
Our ski school caters for learners through to the more experienced water skier or wake boarder. Everyone will have fun on the water!
Tube rides can be as mild or wild as you like, Dave will look after your safety at all times.
All activity and safety equipment is provided – just bring along your swimmers, sun screen, towel, drink, nibbles, a camera and friends to join in the fun and take photos.
The ski season is best from October through to June, as the weather is good and the water is warm.
We'll meet you and hit the water from the Lions Park boat ramp on the Northern bank of the Nambucca River, just over the bridge from the centre of Macksville. We are also just a short drive from other tourist centres such as Nambucca Heads, Coffs Harbour, South West Rocks, Kempsey and Port Macquarie so why not make a day trip and join us.
Learn to water ski, fast!
Over 30 years teaching experience
Book a time that suits you
All quality equipment supplied
Fully licensed and insured
Convenient location off the Highway
Learn to water ski, wakeboard or just have fun!
Whether you would like to learn how to water ski, barefoot ski, ride a wakeboard, or maybe just cool off with some fun and excitement on our inflatable discs, we've got you covered.
We can have you up on water skis in just 30 minutes!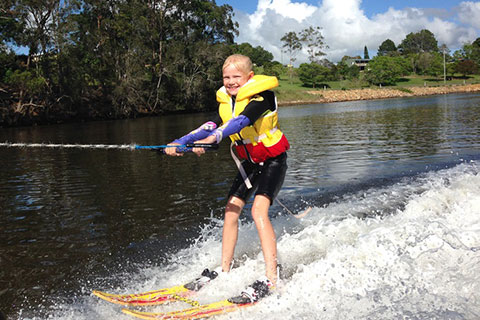 Water Skiing
Whether you are a beginner or an experienced skier, you are sure to have a great blast!
Beginners can learn on our training bar, starting on double skis. Your instructor will have you standing up in no time.
Experienced skiers can spend their session carving up the beautiful Nambucca River and jumping the wake.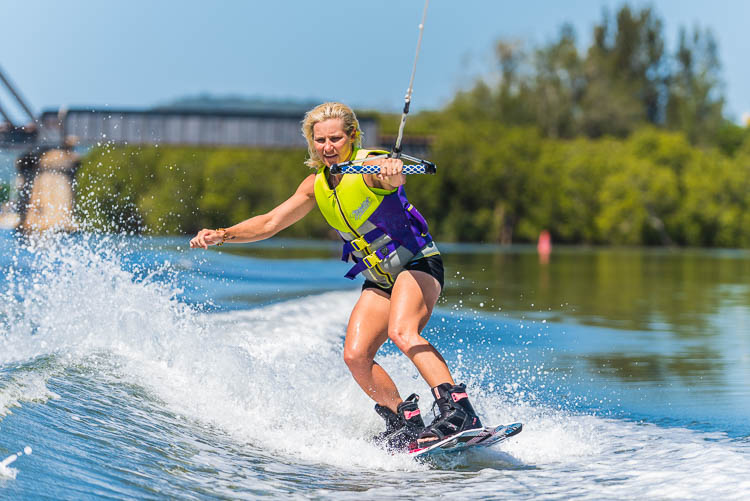 Wakeboard
Learning to wakeboard with us is quick and easy. The training bar lets you learn right next to your instructor and get standing up fast!
Experienced wakeboarders will enjoy the wake our boat creates, perfect for jumping and carving.
Barefoot
Learning to barefoot ski used to be a painful experience, however we can teach almost anyone to barefoot in a short time.
More experienced footers can get expert coaching from Dave to improve your technique and learn some new tricks.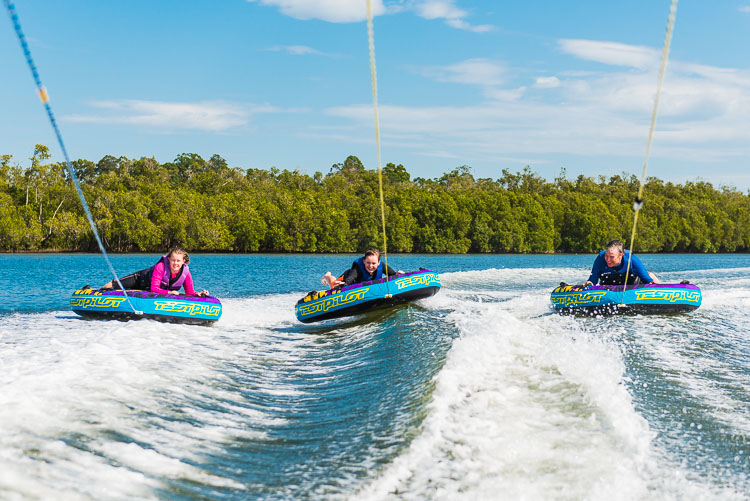 Inflatables
Our inflatable discs offer the chance for everyone to have a fun experience.
Whether you want a wild ride or want to relax and take in the scenery of our beautiful river, the inflatable discs are a hit with every visitor. 
Photo Gallery
Check out some of the action from the beautiful Nambucca River!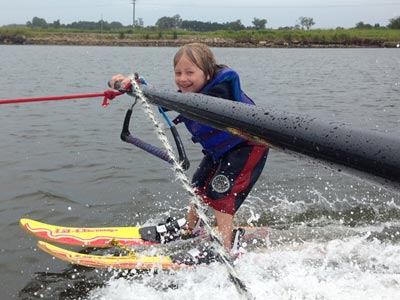 He had my kids skiing in no time!
Spent a few hours with Dave on the water this week. He had my kids skiing in no time and is a great bloke to spend time with. Will be on the water with him next time we're in town.
Peter Rankin – Sydney
Great day out on the river
David had the whole family up on the skis (first time skiing for everyone) and then finished off with family feud on the donuts … Great fun!
Ann-Maree McIntyre – Bathurst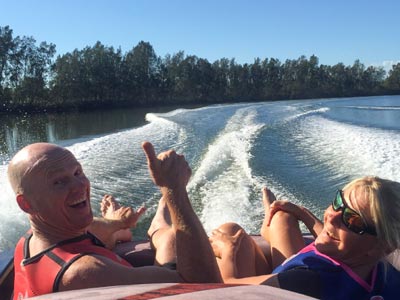 If you're into water sports, this is for you.
Thanks Dave for a wonderful day today. Your help & advice was invaluable.
If you're into your water sports, this is for you. Whether you're a beginner or quite advanced and want to improve, while having a great time, Dave has you covered.
Greg Jackson – Armidale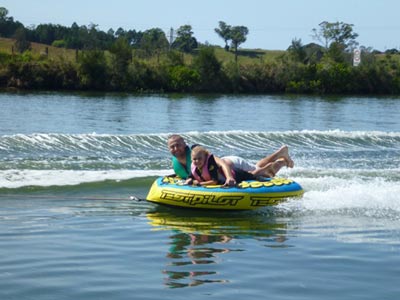 Kids had a fabulous time
The kids had a fabulous time on the donuts – we came back the next day to do it all again!
Elizabeth Barr – Sydney
What an amazing day!
Dave had us up and skiing in no time, his training and coaching really helped us. Even my 7 year old son had a blast!
What an amazing day, thanks again!
Simon Turner – Sydney
Frequently Asked Questions
Is there a minimum age to participate?
There are no age limits, but all participants must be able to swim in open water.
I can't swim, can I still participate?
Sorry, we require all participants to be able to swim.
Can I take photos of my group?
Yes you can! We encourage you to document your awesome day on the water. (And tag us on social media too!)
Can non skiers ride in the boat?
Yes, if there is room in the boat, non skiers are welcome to come along for the ride.
Is there a minimum group size?
Yes, we have a minimum group size of two people.